Print
Sales process
Manufacturing a luxury product within Switzerland has a certain price, but any amateur athlete who has trained for many years to reach his or her goal has the right to reward him or herself with this marvellous keepsake, a Marcel Bouvier watch.
Well aware that in the high-end market, distribution costs account for 80 to 90% of a product's price, Marcel Bouvier is blazing a trail and tackling this problem: adding value to the product in the manufacture and reducing the distribution costs as much as possible. The solution: direct sales to customers via the internet.
To customise your watch, we simply need your choices and your text to be engraved. In addition, this helps us create a real partnership with each and every customer.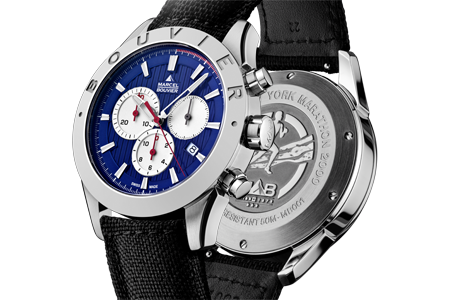 ---
The sales process is as follows:
1) You select your watch, your dial and your theme from the purchase menu
2) You send us your text to be engraved and your details. We will then send you a confirmation email with an order code.
3) You send a down payment of 300 Swiss francs by bank transfer, stating your order code.
4) Once your payment is received, we will confirm your choices and then engrave the back of your watch (10 days).
5) You will receive a photo of your case back, then you can transfer us the balance.
6) Once the balance has been received, we will finish assembling your watch, carry out all the quality checks (finish, water resistance), create your personalised certificate and send you your precious watch by mail (registered; 10 days).
Your parcel will be sent to your home, where it will have to be signed for. If no-one is home when it is delivered, your parcel will be available for you to collect from your nearest post office. You will have to provide ID and your shipping confirmation to collect it.
For deliveries outside of Switzerland, your Marcel Bouvier watch will be invoiced to you exclusive of taxes, but shipping costs will be covered. The postal service in your country will clear your watch through customs, and the VAT rate and import fees applicable in your country must be paid.