Print
Case middle and bezel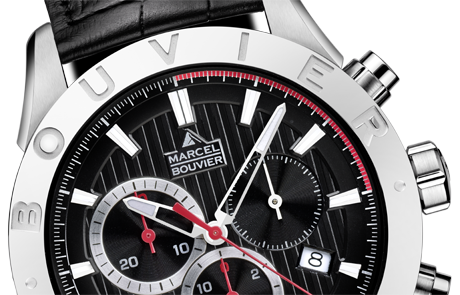 Marcel Bouvier has designed a robust case middle to protect the heart of the timepiece, which is both functional and a delight to wear. Because of its timeless aesthetic qualities, a round case middle was preferred with slightly curved horns to allow the watch to fit to the shape of the wrist. The horns are delicately integrated into the case middle and bevelled to add a touch of elegance. The same attention to detail has been applied to the crown, which sports the MB logo in relief.The bezel should be the watch's signature, to give it its own unique identity.
The stamping process used to mark the bezel with "Bouvier", used only by the high-end watchmaking sector, lends it an exclusive air.
The optional screw-down bezel is another exclusive choice, and one which opens up a world of high-tech materials (titanium, ceramic).
---