Print
Concept

Values, ethics, ideology
A watch to bear witness, illustrating the values of determination and the desire to push limits, a source of inspiration and meaning, steeped in the emotions of its delighted owner, the hero of his or her own story, and of the achievements that this watch records.
A timepiece with a pure, timeless aesthetic, which only the skills of the watchmaking profession's finest master craftsmen can achieve.
Marcel Bouvier creates luxury products manufactured in Switzerland.
Distribution costs are minimised, allowing the value of the watch to be concentrated on its design and realisation.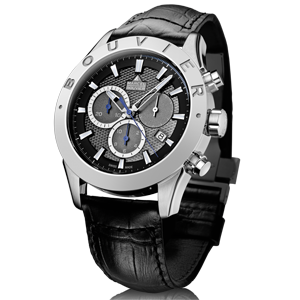 ---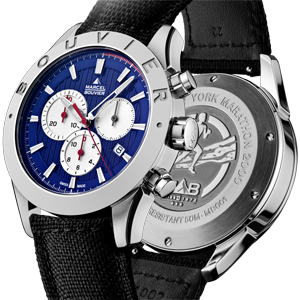 With its distinctive bezel, the Marcel Bouvier watch is designed to create links between those sharing the same values and to become a symbol of life itself.
The Marcel Bouvier watch hopes to be to horology what the 911 is to the motor car: high-performance, reliable, stunning yet functional, with a meticulous elegance, and exclusive, but with cross-generational appeal.
A luxury timepiece which brooks no compromise! Nothing but the very best has been selected to obtain an exceptional finish and ensure reliability and functionality.
An exclusive and individual watch, as it is manufactured to the specifications of its future owner (theme and finish for the back, bezel, strap and middle).
A customised timepiece, with a traditional burr-engraved dedication.

---